Discover more from Hill Heat
Climate science, policy, politics, and action
Over 3,000 subscribers
Votes by pro-polluter majorities in the House and Senate
Yellen delivers a climate lesson. Also: Dril, baby, dril!
PRESENTED BY NEW AND IMPROVED PARAQUAT
Before we get to today's news, let's look back at yesterday. Oil giants including BP, Chevron, and ExxonMobil spent $264 million on the Gulf of Mexico lease sale mandated by the Biden-Manchin Inflation Reduction Act. The government expects up to 1.1 billion barrels of oil and 4.4 trillion cubic feet of natural gas will be produced over 50 years of drilling, adding tens of millions of tons of carbon dioxide and methane to the atmosphere.
In the Senate yesterday, the reliably terrible Sens. Joe Manchin (D-W.Va.) and Kyrsten Sinema (I-Ariz.), were joined by three western-state Democrats—Catherine Cortez Masto and Jacky Rosen of Nevada, and Jon Tester of Montana—in voting for the Republican resolution to reverse the Biden administration's Waters of the United States rule which protects streams and wetlands. The western Democrats are primarily looking to appease agribusiness in their near-desert states as they come up for re-election, choosing the coward's path of keeping water-hungry industry happy as the Southwestern fossil-fueled water crisis accelerates. Biden will veto the resolution, so this is another exercise in declaring ideological adherence to polluters over the public.
We also discussed the horrors of the pesticide paraquat, so today, here's a much better, non-toxic paraquat:
DRILL, BABY, DRILL: This morning, House Republicans passed H.R. 1, their drilling, mining, and pollution deregulation legislation, by a vote of 225-204. Rep. Brian Fitzpatrick (R-Pa.) was the sole Republican voting against the bill, because he supports a carbon tax and opposes fracking the Delaware River Basin. The slimy oil-patch politician Henry Cuellar (D-Texas), who represents a safe Democratic district, as well as three of the five Democrats in Republican-leaning districts—Vincente Gonzalez (D-Texas, R+1), freshman Jared Golden (D-Maine, R+6), and freshman Marie Gluesenkamp Perez (D-Wash, R+5)—crossed the aisle to vote for polluting industry and against climate justice. The legislation will likely die in the Senate.
MONEY TALK: In a new report, the UN-convened Net-Zero Asset Owner Alliance, a primarily European coalition of pension funds and other major asset holders with over $11 trillion under management, state that no new oil or gas fields should be developed. There are no major U.S. institutions in this alliance.1
There were climate fireworks in yesterday's House appropriations hearing with Secretary of Treasury Janet Yellen on her department's international programs, which includes $1.42 billion for international climate change and environmental funds. The Hill's Brett Samuels reports:
"Can you provide to me, or do you know any research on your own to justify this drastic climate change that we have to do today or the next four or five years this world's going to come to an end?" Rep Jerry Carl (R-Ala.) asked Yellen at a hearing on the banking system.

When Yellen pointed to an "enormous amount of research" summarized by a United Nations group about the threat of climate change, Carl claimed that the global organization "makes a lot of money off the climate change scenario."

"There is a strong scientific consensus and enormous body of research," Yellen responded.
Carl, whose district includes the hurricane-ravaged city of Mobile, offered a bizarre argument in his self-described "dumb country way" against the threat of rapid manmade climate change by noting "one could go 300 feet above sea level and find oyster shells in an embankment, then travel 40 feet below sea level and find a petrified forest under water." So, not really up on the distinctions between changes in atmospheric carbon dioxide and sea levels that occur over geological timescales and those that are happening within our own lifetime.
Yellen, who failed to raise her voice despite her name, did her best.
"The way it's being used now is like a Trojan horse. Everything you want to use it for to get into the conversation is climate-change related," Carl said.

"We're seeing enormous increases in concentration of carbon dioxide in the atmosphere," Yellen said.

"Where in America are we seeing that?" Carl asked.

"It's a global phenomenon; it's not just in the United States," Yellen replied, noting that an increase in the intensity of hurricanes is another cause of concern.

"Climate change, I believe, is an existential threat, and we will leave a world to our grandchildren and great grandchildren that will become uninhabitable if we don't address climate change. We have let decades pass in which we have understood that this was a problem and not taken meaningful action."
THE HITS KEEP COMING: Yet another major storm walloped California on Tuesday, with two more feet of snow in the mountains and water-logged streets giving way to sinkholes in Pasadena. The record-shattering rains have refilled reservoirs but only modestly alleviated California's disastrously low groundwater levels, so there is an effort to allow fields to flood to recharge groundwater.
President Biden and First Lady Jill Biden are expected to head to Rolling Fork, Mississippi tomorrow to survey the swath of destruction from last week's tornadoes and check on the status of the recovery efforts in the Black Delta region, as a new round of severe, fossil-fueled storms strike across the nation from Louisiana to Wisconsin.
This morning, Secretary of Agriculture Tom Vilsack testified before House appropriators about the $32.6 billion USDA budget; $12 billion of the budget is seen by the department as climate-related. Pressed by Rep. Chellie Pingree (D-Maine), Vilsack claimed more research is needed to find out what levels of PFAS are safe in our food supply (we actually already know it's zero).
Senator Jeff Merkley (D-Ore.), chair of the Environment subcommittee on toxic waste, convened a hearing on the dangerously underexamined crisis of the exponential growth in plastic production and the ensuing immortal toxic waste. Scientist Arvind Ravikumar, an oil and gas industry expert, described the carbon footprint of plastics production. Chelsea Rochman, who studies microplastics contamination, described how they infiltrate every level of the food web. Republican witness Hota GangaRao, an expert in building materials, testified on behalf of the American Composites Manufacturers Association, the trade group of the fiber-reinforced polymer industry.
Sen. Michael Bennet (D-Colo.) chaired an Agriculture subcommittee hearing on the Farm Bill and forests, where witnesses and members debated on whether the threat of global warming to our forests means we need to subsidize faster logging or to actually try to protect arboreal ecosystems.
DRIL, BABY, DRIL: For those of you in Los Angeles on Saturday, y'all might want to check this out….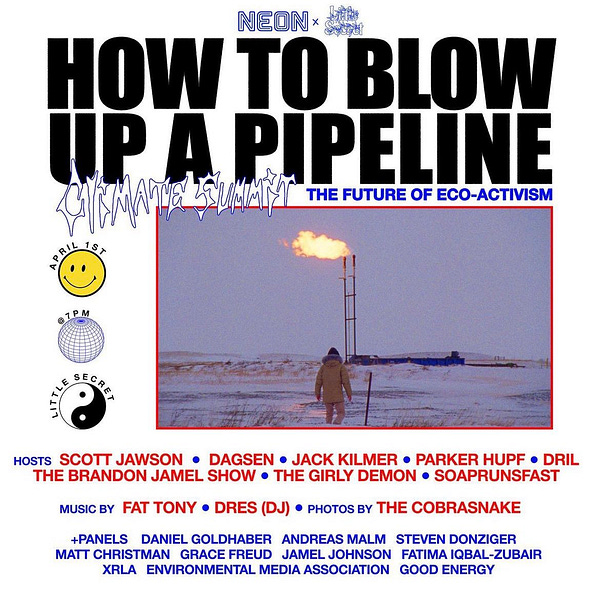 Hearings on the Hill:
Thanks for subscribing and spreading the word. DMs are open—@climatebrad@mastodon.social