Discover more from Hill Heat
Climate science, policy, politics, and action
Over 3,000 subscribers
Opening the mailbag
Methane skyrockets, crypto and Big Ag carbon offset schemes, fewer balloons
PRESENTED BY A VERITABLE AVIARY
Readers wrote in to complain that yesterday's newsletter did not include any wildlife photos1, so we will attempt to rectify that oversight today.
Atmospheric methane continues to rocket up at record rates, NOAA reported yesterday. As fracking booms, methane levels increased by 17 parts per billion in 2021, breaking the 2020 record of 15.3 ppb. Concentrations of this powerful greenhouse pollutant are now 162 percent of their pre-industrial levels, as the Biden administration pushes for more natural gas production and export.
I will take this moment to remind readers that the EPA is undercounting methane pollution by 77 percent.
The essential Kate Aronoff castigates the incoherence of Democrats in Congress who claim to care about the climate crisis begging oil CEOs to increase fossil-fuel production, instead of acting to take their billions in windfall profits and, you know, stop global warming:
Appealing to these CEOs' better angels is pointless. Although they hand fossil fuel companies billions in subsidies each year, American policymakers mostly confine themselves to begging or berating them into doing what they want.
As Adam Tooze writes in his review of the three books by Andreas Malm I read last year:
To harp on the climate crisis while doing nothing about it is, in the long run, intolerable. Liberals' failures make Trump look honest. He may deny the science, but at least he's true to himself.
We've Got Mail!
To: Sens. Patrick Leahy (D-Vt.) and Tammy Baldwin (D-Wisc.)
Reps. Rosa DeLauro (D-Ct.) and Sanford Bishop Jr. (D-Ga.)
From: National Family Farm Coalition, Food & Water Watch,
Greenpeace USA, and Friends of the Earth, et al.
Subject: Stop USDA From Funding Climate Scams
I haven't seen this reported elsewhere: dozens of climate and sustainable agriculture groups have written to the members of Congress in charge of appropriations for the U.S. Department of Agriculture, calling on them to block USDA from establishing a carbon commodity market. The USDA intends, with questionable statutatory authority, to spend $1 billion to establish the Partnership for Climate-Smart Commodities, its branding for a Big-Ag carbon-trading-and-offset scheme. The letter-writers argue:
These schemes will increase land and market consolidation in agriculture, increase liability and risk for small farmers, undermine necessary action on climate change, increase pollution, and harm disadvantaged communities by allowing polluters to purchase specious credits instead of reducing emissions at their source.
The authors call for appropriators to block this plan, remove subsidies for factory farms, and instead increase funding for agricultural conservation programs favored by independent farmers. It really is a pain that "climate-smart" is now code for "corrupt scheme."
To: Gary Gensler, Chairperson,
U.S. Securities and Exchange Commission
From: Sen. Joe Manchin (D-W.V.)
Subject: Don't Make Fossil Fuel Companies Admit They Cause Global Warming
Shadow president Joe Manchin is unhappy about the climate disclosure rules the SEC proposed last month, because it might send "a signal of opposition to the all-of-the-above energy policy that is critical to our country right now." Manchin is especially concerned about the "targeting of our nation's fossil fuel companies" by the proposed rule, which would compel them to account for the climate pollution caused by their product. How unfair!
To: Oregon Public Broadcasting
From: 350PDX, Oregon Physicians for Social Responsibility, et al.
Subject: Drop NW Natural Gas Sponsorship
A dozen-odd Oregon climate groups are asking their local public radio stations to stop running greenwashing ads from the natural-gas utility NW Natural. That seems like that's something NPR and all its affiliates should be doing.
To: Subscribers:
-NOAA Weather Wire Service
-Emergency Manager Weather Information Network
-NOAAPORT
Other NWS Partners And Employees
From: Michelle Mainelli, Acting Director Office of Observations,
National Weather Service
Subject: Changes in Weather Balloon Launch Frequency Effective March 29, 2022
Thanks to a global helium and hydrogen supply shortage, the National Weather Service is cutting back on its weather balloon launches. The NWS says this won't affect forecast or data quality, but pretty obviously when the measurements aren't made, you can't recover the missing data.
Yesterday, the Senate unanimously approved the Suspending Energy Imports from Russia Act (H.R. 6968), which codifies the executive action Biden took in March to block Russian oil, liquified natural gas and coal from entering the United States. Reps. Cori Bush (D-Okla.) and Ilhan Omar (D-Minn.) were the only Democratic votes against the bill last month, because the ban is "being used to justify even more dangerous drilling at home and increased imports from other authoritarian governments like Saudi Arabia."
Toucan? More like Toucan't!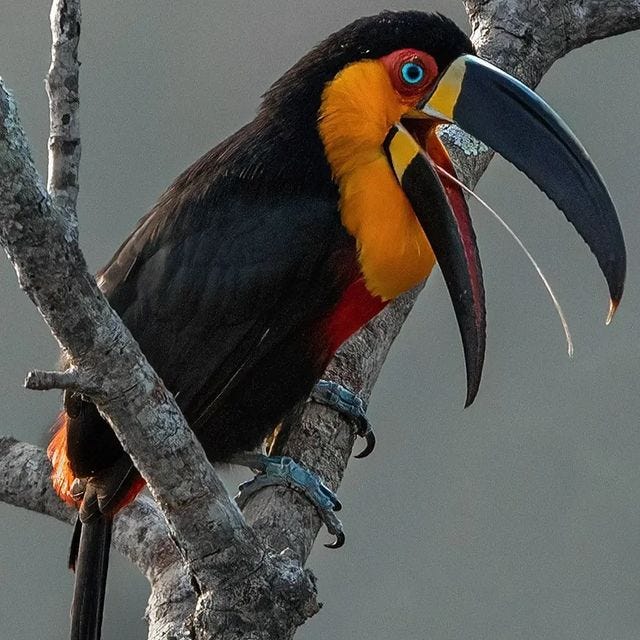 Thanks to the Toucan project, crypto users have become the purchasers of "more than a quarter of all carbon credits by the world's largest verifier of offsets." "Toucan lets users who own carbon credits link them to digital tokens. The tokens, called BCT—for Base Carbon Tonne—can then be traded on cryptocurrency exchanges." As Rusty Foster commented in January:
Turning carbon credits into cryptocurrency is like recycling plastic bottles into 6-pack rings and then dumping them directly into the ocean, but BCT holders can also trade in their tokens for a derivative token called Klima which will allow them to ascend into the purest ethereal realms of financialized bullshit.
As it turns out, Rusty was extremely right. In fact, "most of Toucan's BCTs are based on renewable energy projects that would likely have happened without extra financial support" — i.e., they're junk offsets. Worse, this crypto scheme is encouraging the creation of new junk offsets.
"Toucan is creating incentives to bring zombie projects to life that have no environmental integrity," Danny Cullenward, policy director at CarbonPlan, tells Bloomberg reporters Akshat Rathi and Natasha White.
Ah, but: "Toucan says it's not their responsibility to judge the quality of a carbon credit."
Keep dumping those 6-pack rings in the ocean, bros.
Hertz is going watts: after placing an order for 100,000 electric cars made by Tesla in October, the rental-car giant has ordered 65,000 electric cars from the Polestar startup. See, Louis DeJoy, you can go electric!
California's fossil-fueled desertification is driving the Delta smelt to extinction. Who will be next?
Drinking uranium! The power goes out in Puerto Rico, again. Get ready for more hurricanes this summer.
JERBS: The Power Shift Network is seeking a development manager ($50K-$70K). Public Citizen is looking for a clean-vehicles campaigner ($69K to $82K). The recently created Field Intelligence on Strategic Communications, which is a new initiative run by former Oil Change International communications and campaigns director David Turnbull, is hiring a research associate ($80K-100K). The rock-solid Labor Network For Sustainability is hiring a new executive director to replace the outgoing Michael Leon Guerrero ($100K - $120K).
Congress is going on an extended recess the next two weeks, so Hill Heat will be on vacation schedule.
It was great meeting folks at the Data For Progress happy hour last night and chatting with new friends about the Green New Deal, housing justice, desegregating the environmental movement, and running away from your problems. Thanks for subscribing and spreading the word. DMs are open—@climatebrad