Discover more from Hill Heat
Climate science, policy, politics, and action
Over 3,000 subscribers
Biden's Big Oil Guy Steps Down
Scorched for signing off the Willow Project, Tommy Beaudreau is leaving the Department of Interior
PRESENTED BY EDGE-ON PROPLYDS
Tommy Beaudreau, the Interior deputy secretary who signed the approval for the carbon-bomb Willow Project, is stepping down. Raised in Alaska's oil fields, Beaudreau worked in the Obama administration on Arctic oil and gas drilling, before becoming a fossil-fuel-industry lawyer. Interior Secretary Deb Haaland refused to sign off on the ConocoPhillips' Willow Project, so the "Interior Department's ambassador to Capitol Hill Republicans and to the energy industry" penned the approval.1
His climate-destroying efforts did not go unnoticed, however. Alex Connon describes how Climate Defiance greeted Beaudreau to Climate Week NYC last month:
The youth-led direct action group has disrupted and shut down speeches by dozens of politicians and Biden officials, uncompromisingly demanding an end to fossil fuels. Last week, some of their activists prevented Tommy Beaudreau―the Biden official who signed off on the Willow project―from entering a climate event. As they refused to let him in the building they chanted "fuck you man" in his face. That is the chant of a movement that is done with asking nicely.
And now he's quitting. Probably just a coincidence!
The greasy Amos Hochstein is still fracking up the White House; we'll see how long that lasts.
This morning, the Senate Commerce committee interviewed Michael Whitaker, Biden's nominee to be administrator of the Federal Aviation Administration. Whitaker is a former TWA and United Airlines executive and FAA deputy administration, and is now the chief operating officer at electric aircraft company Supernal, a subsidiary of Hyundai. Whitaker agreed with Sen. Ed Markey (D-Mass.) that "climate change is significantly impacting our aviation system," citing last week's flooding of La Guardia.
MIT's ClimateTech conference concludes today; most of the presenters were corporate technologists, but the Department of Energy's Shalanda Baker also spoke.
The Environmental Protection Agency announced it is investigating a complaint brought by the Southern Poverty Law Center, the Center for Rural Enterprise and Environmental Justice, and the Natural Resources Defense Council against the state of Alabama for discriminating against Black residents by excluding them from access to federal clean water funds, literally leaving them trapped in sewage.
Massachusetts, Connecticut and Rhode Island have agreed to coördinate on future contracts for offshore wind energy projects.
All the Way to Hell is the largest land art project in the world, yet it exists on sheets of 8 ½ x 11 paper.
Meet the women of Puerto Rico who are leading their communities to rebuild the island after Hurricane Maria for climate justice.
From the Public Religion Research Institute, new polling on how religious beliefs intersect with opinion about climate change.
Tropical Storm Philippe drenched the Virgin Islands on a path toward Bermuda, New England and Canada. Fossil-fueled rains caused a Himalayan glacial lake in northeast India to burst its banks and overwhelm several towns, killing at least 18. Hawaiian Electric has $165 million in insurance to repay the victims of the deadly Maui wildfire, which won't exactly cover the $5 billion in damages.
Maxine Joselow and Vanessa Montelbano discovered that an oil spill that had only been locally reported has contaminated Utah's Grand Staircase-Escalante National Monument last month and has not yet been cleaned up.
Two out of five amphibian species are threatened with extinction, with global warming starting to overtake habitat destruction as the primary driver.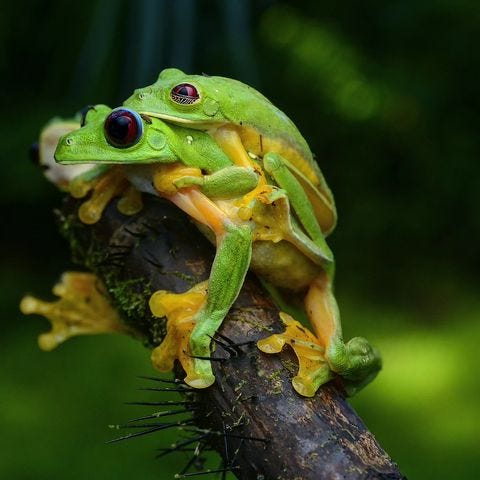 JERBS!
Congratulations to Aru Shiney-Ajay, the new executive director of the Sunrise Movement.
The New York State Energy Research & Development Authority is looking for theit next Cecil Corbin-Mark Environmental Justice Fellow ($67-$91K, Albany or NYC).
The Green New Deal Network is looking for a legislative associate ($71K-$86K, DC region). Applications close tomorrow!
The Office of the Special Presidential Envoy for Climate John Kerry is hiring a senior advisor for methane and other super-pollutants (DC, no salary listed).
The Or Foundation is hiring a director of organizational development to help raise funds for their work in improving conditions and sustainability in the world's largest secondhand clothing market in Accra, Ghana to catalyze a Justice-led circular textiles economy ($108K-$132K, remote with travel to Ghana, Europe, and US).
The Environmental Protection Agency's Greenhouse Gas Reduction Fund Office is staffing up with grant officers ($112K-$145K, DC).
The Center for Climate Integrity is seeking an experienced managing attorney to hold oil and gas corporations accountable for deceiving the public about climate change ($150K-$180K, remote).
Finally: A giant glowing black cosmic hot dog.
Hearings on the Hill:
Climate Action Today:
This week Politico Power Switch is Presented by Chevron, in case you'd rather read a climate politics newsletter with carbon propaganda. But if not, thanks for subscribing and spreading the word. If you've got job listings, event listings, or other hot news, I want to hear it. Connect with me—@climatebrad@mastodon.social and @climatebrad.hillheat.com on BlueSky